The Little Black Dress is a staple every woman has on-hand for attending parties, going out on dates, or any event really. The LBD is the go-to item, like running shoes (only slightly more fashionable), getting all the wear and tear in our daily lives. The Little Black Chanel Jacket–that's another story.
Since the 1920's, Coco Chanel's black-and-white designs and gold-tone logo are as identifiable as Coca-Cola, to any follower of fashion, in the U.S., Paris, Milan, Japan, worldwide. Yet selling for over $1000 today (a guess since a jacket is not sold at online retail), it is a piece not every woman can own, unless of course you are Sarah Jessica Parker or Carine Roitfeld. But while Chanel may be noticeably absent from our closet that doesn't mean we haven't felt its allure, or hold out hope that one-day too, it might be ours.
The Little Black Chanel Jacket is like forbidden fruit.
Carine Roitfeld
In a NYC exhibition last week: The Little Black Jacket: Chanel's Classic Revisited, and now in a series of short films chronicling it's tour of some major cities happening now, with a coffee table book to follow, the illustrious wearers of Chanel: Roitfeld, Jessica Parker and over 100 others are photographed by Chanel designer Karl Lagerfeld and styled by Roitfeld, wearing the same classic black tweed jacket to remind us of Chanel's iconic status.
Unlike the LBD, that comes in varies incarnations (see my must-have LBD's post here), the history of the Little Black Chanel Jacket's design is largely unvaried. As Lagerfeld reminds us in a behind-the-scenes video on Chanel.com (you can watch below), that's exactly what has elevated it to its singular iconic status. Mr. Lagerfeld says, "The Chanel Jacket is a man's jacket which has become a typically feminine piece. It has crossed that boundary. It has become the symbol of a certain feminine elegance, nonchalant and timeless which means for all of time." To his point he dresses many male celebrities in the jacket for the exhibition including designers Riccardo Tisci and Olivier Theyskens, shown below, and rapper Kanye West.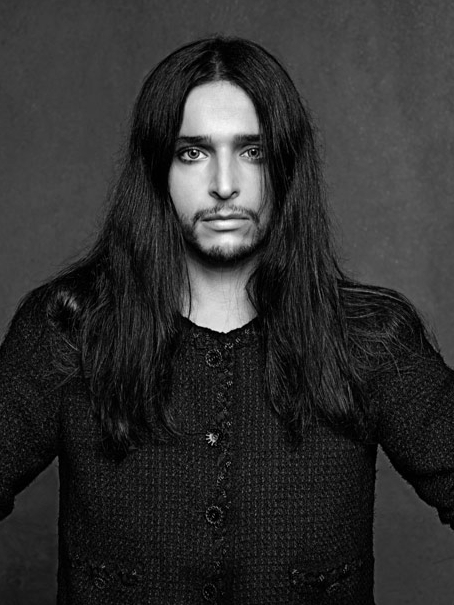 Olivier Theyskens
Ms. Roitfeld goes for slightly more relatable in her remarks behind-the-scenes: "It's like a jean jacket but more elegant…A ballet dancer could wear this jacket."
Actress Virginie Ledoyen who is styled to look like Marie Antoinette in her Chanel, points to Chanel's timelessness, saying she is certain a contemporary of Marie Antoinette would wear this jacket.
An anticipated moment of this body of work will certainly be fashionista and Chanel disciple Sarah Jessica Parker. She calls her Chanel jacket a prized-possession. And she doesn't disappoint--or does she? Watch the video below and tell me what you think. As you can see, Jessica Parker is fashioned in a midriff-bearing version of the jacket, pencil skirt and jeweled crown made piecemeal from the jacket's sleeves. The whimsy of the styling is unmistakable. What's even more striking to me is how much reverence the viewer holds for Mr. Lagerfeld's brand of magic. With Jessica Parker he styles the unimaginable: a woman wearing a jacket on her head. It's verging on ridiculous and we go along with it–as art, as fashion, as religion even. Along with Parker, Lagerfeld pulls off a crazy fashion hat trick—pun intended. Most of us wouldn't want to wear a jacket of shrunken tweed the size of a bralette. Yet, we do want to. Never mind, the thought of cutting up a Chanel jacket. Sacre bleu!
Roitfeld says that a ballet dancer could wear a Chanel jacket and it's well-paid dancers, actors, models, rock stars, socialites, tastemakers who own a Chanel in the real world, that wear Chanel for us in these photos, reminding us The Little Black Chanel Jacket is certainly a symbol of status. Roitfeld's point on the verstality of the jacket in one's wardrobe is taken but Lagerfeld's homily, if you will, on symbols for "…tous les temps" is the word for Chanel devotees, elevating the jacket to something outside the realm of fashion. To see how sexy, elegant, Rock n' Roll, androgynous and sacrosanct one piece of clothing on 109 personalitites can be is remarkable. If only this blogger owned one Little Black Chanel Jacket. The infinite style possibilities! It would be an eternal life of style so to speak.
The Little Black Chanel Jacket is like style salvation.
But for all my adoration, with the notorious snobbery of Lagerfeld's public remarks on skinny models and recent buzz that his cat gets mani/pedis and has it's own Twitter account I couldn't help being slightly annoyed by SJP's photo and the inaccessibility of it all. Yet, as a fashion blogger, I'm doting all the same. Fashion is supposed to be fun for everyone! So I can laugh and get lost in the fantasy of this very special exhibition of art and still long for a Chanel jacket. But don't get me wrong I won't be following Mr. Lagerfeld's cat on Twitter. Well, then again lil' Choupette @ChoupettesDiary might have some nail tips & tricks for me!
And I hate to think that for most of us the Little Black Chanel Jacket is locked up tight in a look-but-can't-touch exhibit or confined to the pages of a coffee table book. But that is what aspirational fashion is all about. And again that is mysterious pull of Chanel. As inaccessible as it might be, we can't help but revel in its charms. So for the rest of us, there's the coffee table book, and, this tiny Little Black Chanel Jacket brooch pictured below that I found on farfetch.com (even tinier than Sarah Jessica Parker's and slightly more affordable)! Oh, but wait, it's sold out. To own a Little Black Chanel Jacket, that would have been farfetched. I guess we have to hold out hope that in some version of a fashion heaven, Coco is there waiting at the very pearly gates to let us all in.